The 2023 Asia Pacific Cities Summit (2023APCS) and Mayors' Forum - "Shaping Cities for our Future"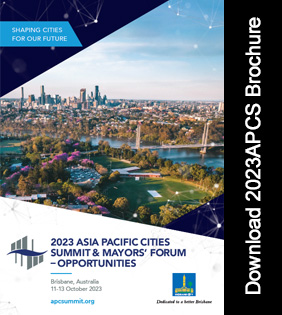 The APCS is the Asia Pacific's landmark event for city leaders and those involved in the business of cities, bringing together one of the largest and most diverse gathering of mayors in the region with the greatest impact. 
When held in Brisbane 2019, the Summit attracted over 1,400 delegates, including 83 mayors and deputy mayors. The Summit showcased 196 speakers and over 80 exhibitors throughout the event, including more than $AUD 4.2b of city projects presented through major project announcement briefings. 
An award-winning event with a history of more than 25 years, the Summit convenes city thinkers, makers and trailblazers to propel urban capability and best practice, while connecting government and business to each other. 
The APCS offers an unsurpassed global opportunity for city and business leaders alike. 
Event: The 2023 Asia Pacific Cities Summit (2023APCS) and Mayors' Forum 
Date: 11 - 13 October 2023 
Location: Brisbane Convention and Exhibition Centre, Brisbane 
Delegates: Traditionally, the Summit attracts more than 1,000 mayors and delegates representing over 130 international cities
Host: Brisbane City Council, APCS Secretariat 
Theme: Shaping Cities for our Future 
Sub-themes:
 Cities of Connection - Technology, data and the people 
 Cities of Sustainability - Adapting to growth, inclusivity and wellbeing 
 Cities of Legacy - Creating events for prosperity and longevity
Full program is now available - Click 
Resources: 
Why join the 2023APCS? 
You will walk away with: 
Insights on emerging opportunities and world changing ideas on cities
Connections to world class keynote speakers, city leaders and high calibre delegates 
Access to the award-winning APCS network and alumni of more than 550 cities 
Influence in the conversation on the future of our cities 
Business leads, commercial outcomes and ongoing business development support.
You will meet with: 
APCS attracts the highest calibre of delegates from across the globe, including: 
City mayors, councillors and CEOs
Company and business CEOs, directors, managers and leaders
Peak body and government representatives
Government heads of local, state and federal departments
Policy makers in the urban agenda
Leaders in city tourism 
Emerging leaders, researchers and change advocates
Innovators, influencers and trend setters. 
Registrations now open