Information on this page is for delegates who attended the 2021APCS Special Edition and wish to maximise their attendance by accessing recorded content and additional information about the Summit and exporting details of their established connections. 
1. 2021APCS Special Edition App
The 2021APCS App will be accessible until 15 November 2021. Delegates who attended the 2021APCS Special Edition and downloaded the App can export the contact information of scanned contacts by clicking on the Scan Contacts icon in the App, then going to the Export tab to export details of your connections directly to your inbox. If you don't receive exported notes and contacts, please check your junk email. 
The 2021APCS App provides physical and virtual delegates with real-time Summit information from your mobile devices. Delegates can review the attendee list, schedule meetings, access the program and much more.
2. 2021APCS Special Edition Virtual Platform
If you missed a session during the 2021APCS Special Edition or would like to listen to a session again, log back into the Virtual Platform and watch the recordings until 11 March 2022. Your login details were included in your final confirmation email. 
Don't forget to export your contacts and notes by clicking on the Export button on the top right corner of the Virtual Platform. If you don't receive exported notes and contacts, please check your junk email.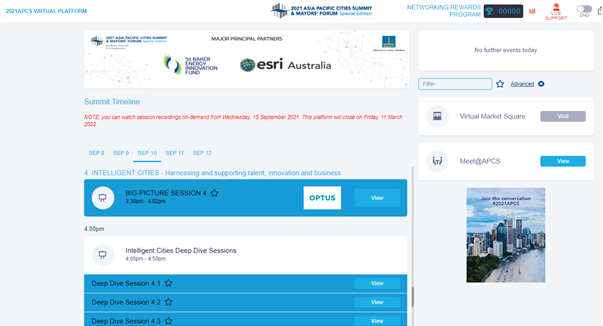 (Image: Virtual platform - an example page) 
Delve into virtual platform features to get the most out of your time both during and after the at 2021APCS Special Edition
Build long-standing relationships with delegates, exhibitors, speakers and partners from the Asia Pacific and beyond.
Be part of [email protected] and participate in user-friendly live chat and schedule meetings with fellow delegates.
Pitch your products and services to participating public and private sector organisations.
Learn about the region's best tourism strategies from tourism providers who have successfully navigated through the current business environment.
Export details of your new connections and notes in one click.
Revisit the Summit sessions and continue to building your connections with access to the virtual platform up to 180 days post Summit.