Information on this page is for delegates who attended the 2021APCS Special Edition and wish to maximise their attendance by accessing recorded content and additional information about the Summit and exporting details of their established connections. 
1. 2021APCS Special Edition App and Virtual Platform 
The 2021APCS App and Virtual Platform provided physical and virtual delegates with real-time Summit information. Delegates could review the attendee list, schedule meetings, access the program, watch livestreamed speaker sessions and much more. Delegates could also export thier scanned contacts and notes as well as watch the recordings post-Summit from the 2021APCS Special Edition Virtual Platform.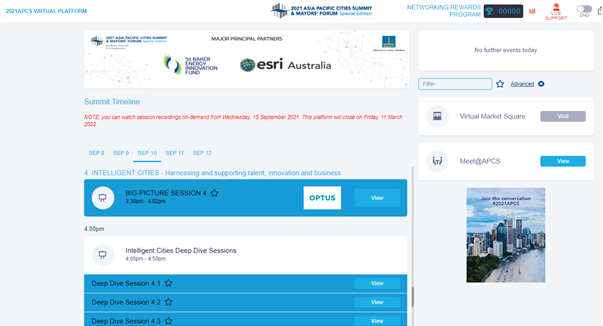 (Image: Virtual platform - an example page) 
How delegates delved into virtual platform features to get the most out of their time both during and after the at 2021APCS Special Edition
Built long-standing relationships with delegates, exhibitors, speakers and partners from the Asia Pacific and beyond.
Participated in the [email protected] business meeting program by using live chat and scheduled meetings with fellow delegates.
Pitched their products and services to participating public and private sector organisations.
Learnt about the region's best tourism strategies from tourism providers who have successfully navigated through the current business environment.
Exported details of new connections and notes in one click.
Revisited the Summit sessions and continue to building their connections with access to the virtual platform up to 180 days post Summit.