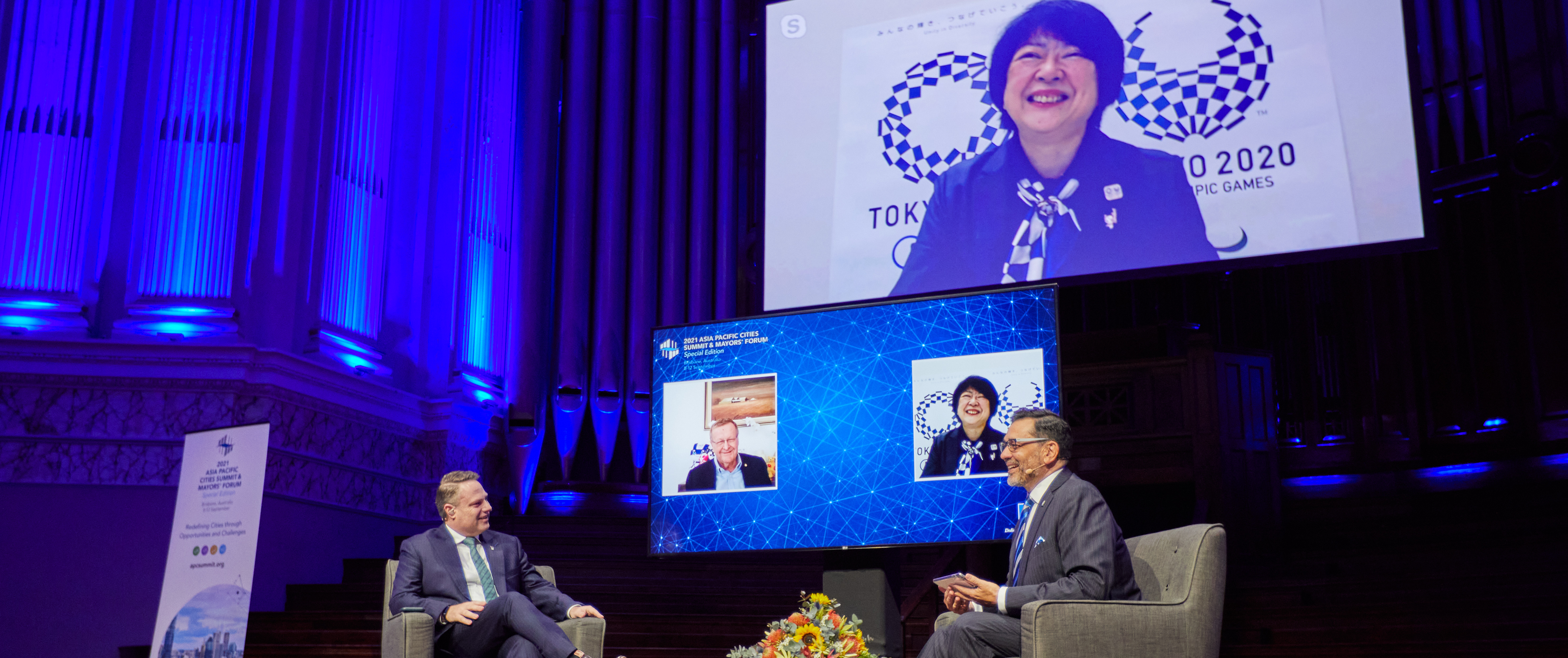 2021APCS Special Edition Full Program 
Click to view the full program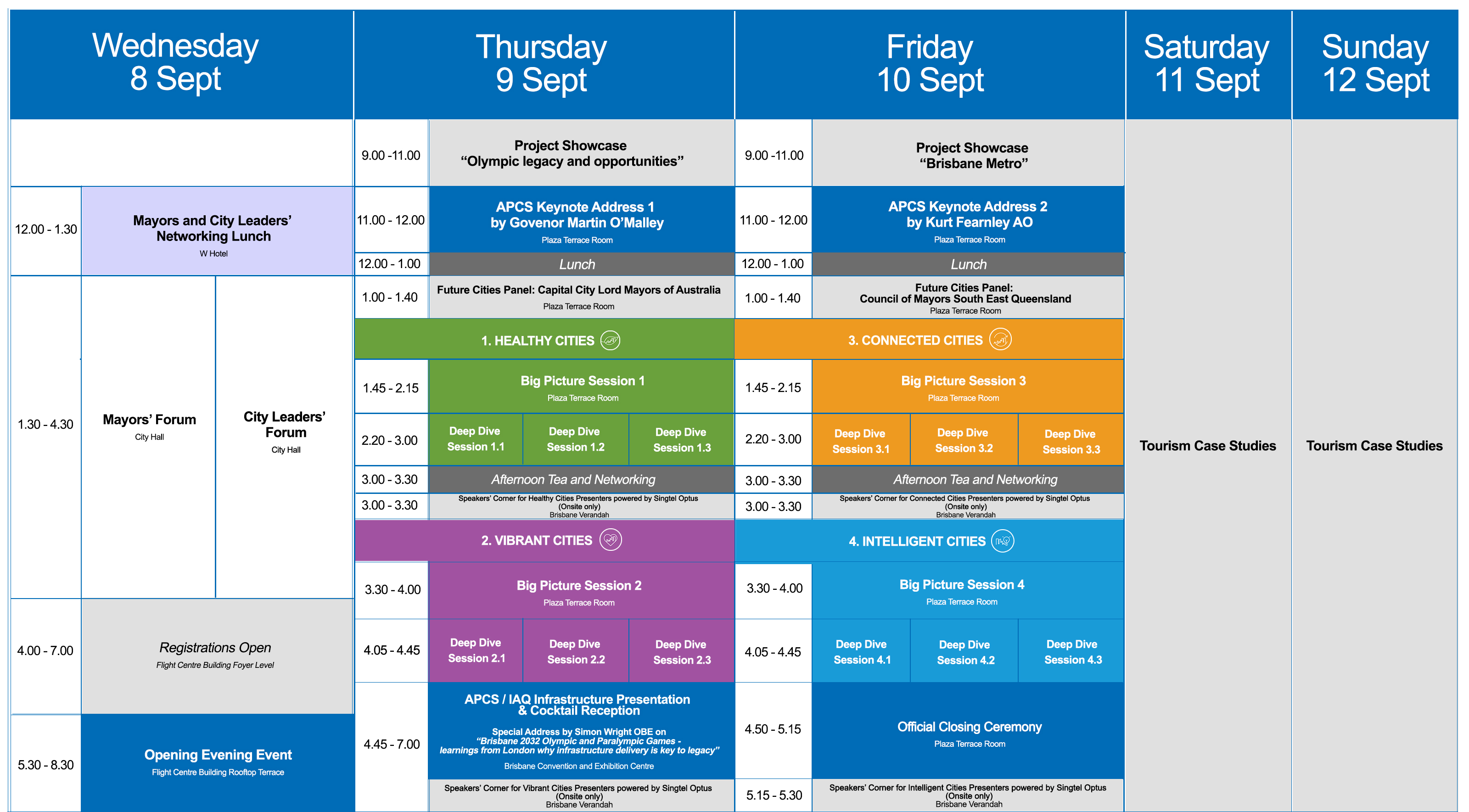 Headlined by renowned global speakers and partnered with the region's leading brands and think thanks, the 2021APCS Special Edition was an unmissable opportunity for leaders interested in the business of cities! 
Speaker session types 
APCS Keynote Address: Top level keynote sessions that are not attached to sub-themes but seek to address the overall 2021APCS Special Edition theme of 'Redefining Cities through Opportunities and Challenges.' Keynote speakers by invitation only. There will be either a single speaker for 40 minutes followed by moderated discussion or two speakers of 20 minutes each followed by moderated discussion. 
Big Picture Sessions: Plenary sessions which address one of the sub-themes from a macro perspective. These feature one or two speakers (either one for 20 minutes or two of 10 minutes each), who are recognised as leaders within the field. Two themes per day.
Deep Dive Sessions: Focused concurrent sessions featuring immersive case studies and presentations which will delve into detail. Speakers may be invited or authors of selected abstracts. There will be a minimum of two Deep Dive Sessions per sub-theme. 
Future Cities Panels: High level plenary session on broader city-based issues. Speakers are city leaders speaking in panel format. 
Program theme: "Redefining Cities through Opportunities and Challenges" 
Under the overarching theme of 'Redefining Cities through Opportunities and Challenges', the 2021APCS Special Edition program featured an impressive line-up of speakers and curated sessions to generate meaningful and insightful conversations in line with each of the program sub-themes:

HEALTHY CITIES
- Strengthening agility, wellbeing and sustainability 

 VIBRANT CITIES - Celebrating and enhancing creativity, diversity and tourism

 CONNECTED CITIES - Redefining connections and movement 

 INTELLIGENT CITIES - Harnessing and supporting talent, innovation and business
Download a brochure
Click to view or downlad 
What is different from a traditional biennial APCS? 
| Program | Biennial APCS | 2021APCS Special Edition |
| --- | --- | --- |
| Keynote speakers | ✓ | ✓ |
| Big Picture (plenary) and Deep Dive (concurrent) sessions  | ✓ | ✓ |
| Exhibition | ✓ | ✓ |
| Project Showcase | ✖ | ✓ |
| Mayors' Forum | ✓ | ✓ |
| City Leaders' Forum | ✖ | ✓ |
| Social Events | ✓ | ✓ |
| Tourism case studies | ✖ | ✓ |
| Virtual delegate participation | ✖ | ✓ |
| Virtual exhibition | ✖ | ✓ |
*Program is subject to change
Hybrid event
The 2021APCS Special Edition was held live and in person in Brisbane and was covered by our delivery guarantee. 
International delegates had the choice of attending the summit either in person as a physical delegate or digitally as a virtual delegate. Virtual delegates had full access to keynote and concurrent sessions and will be able to participate in networking and the exhibition.
Who attended the 2021APCS Special Edition? 
The 2021APCS Special Edition provided a superior access opportunity and attracted key decision-makers and influencers of urbanisation and economic recovery from across the region, including:
mayors and deputy mayors
chief executive officers and senior managers 
chief procurement officers of local government
key business and industry leaders and representatives
senior policy makers and municipal directors, including specialists in transport, planning, environment, infrastructure, energy, water and economic development
heads of industry and senior technical directors with a strategic interest in city management
research leaders relating to urbanisation and managing cities
emerging leaders from industry and the public sector.