"Your opportunity to re-engage with the world at a significant scale and at an important and unprecedented time as we shape our cities for our future"
With more than 1,000 participants, an award winning, dynamic program, and vital networking opportunities, the 2023 Asia Pacific Cities Summit (2023APCS) & Mayors' Forum offers an unmissable chance for participants to be at the forefront of the conversation of the future of cities. 
Program theme: Shaping Cities for our Future
Sub-themes: 
 Cities of Connection - Technology, data and the people 

 Cities of Sustainability - Adapting to growth, inclusivity and wellbeing 

 Cities of Legacy - Creating events for prosperity and longevity
Full program is now available - Click 
This is not a finalised program and is subject to change.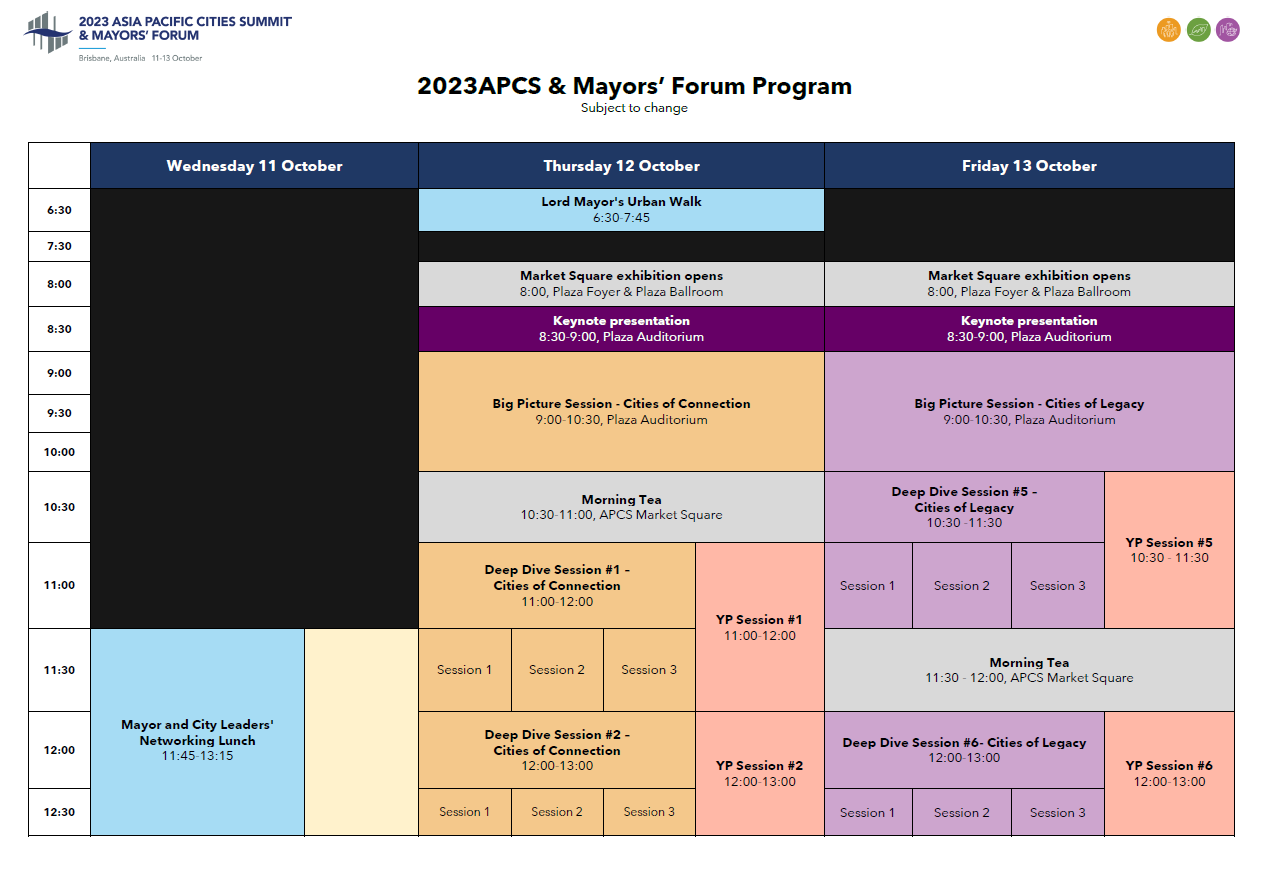 Key program elements 
Speaker Sessions: Hear from dynamic and ground-breaking speakers across keynote, big picture and deep dive sessions who are leading their industry and making their mark. 
Mayors' Forum: An intimate and exclusive opportunity for attending elected municipal leaders to create their own global network of influential peers and learn the latest trends and opportunities in city management. 
City Leaders' Forum: An exclusive opportunity for attending leaders such as CEOs and departmental managers to share their first-hand experiences and activities of their region and learnings from one another. 
APCS Market Square Exhibition: Showcase your products, services and ideas to leaders of the Asia Pacific region and beyond. Gain increased domestic and international exposure and generate new business opportunities. 
Meet@APCS Business Meetings:  Liaise with other delegates for more intimate business discussions through the Meet@APCS Business Meeting function on our delegate app
Speaker session types 
Keynote Sessions: Top level keynote sessions that are not attached to sub-themes but seek to address the overall Summit theme of 'Shaping Cities for our Future'. Speakers by invitation only in opening sessions, both Thursday, 12 October and Friday, 13 October. 
Big Picture Sessions: Plenary sessions, which address one of the sub-themes from a macro perspective. These feature three speakers for 10 minutes each, who are recognised as leaders within the field. Three themes across two days, Thursday, 12 October and Friday, 13 October. 
Deep Dive Sessions: Concurrent sessions featuring immersive case studies and presentations, which delve into detail. Speakers may be invited or authors of selected abstracts. Presentations will be 10 minutes with six Deep Dive Sessions per sub-theme. Each Deep Dive Session will be hosted by a Session Chairperson, drawn from the pool of APCS stakeholders and sponsors. 
Register to attend the 2023APCS now.