"There is no better event to attend and participate in than the APCS! It is a significant event that attracts key decision makers from across the Asia Pacific region."
1. Can you give us an overview of your organisation? 
EarthCheck is the world's leading business advisory group specialising in sustainability and destination management for the travel and tourism industry. EarthCheck's holistic approach to responsible tourism and its world leading science enables destinations and operators to benchmark and certify their performance with confidence and surety. 
Through its Total Tourism Management™ platform, EarthCheck works in partnership with clients to help plan for the future and guide the design, constructiion and operation of smart buildings and the responsible management of tourism destinations. 
The EarthCheck Research Institute brings together leading scientists, postdoctoral fellows, staff and students working in and across university centres around the globe. Its role is to identify the opportunities and challenges that are likely to impact on the tourism industry over the next 5 to 10 years with a focus on scientific research, education and capacity building to solve real-world challenges. 
2. Why did you choose to participate and support the 2019APCS?
As a leader in environmental stewardship in the Asia Pacific region, EarthCheck was proud to partner with the 2019 Asia Pacific Cities Summit (2019APCS) & Mayors' Forum to assist it to become a more sustainable and responsible event such as providing delegates with reusable water bottles and installing water refill stations throughout the venue as well as switching to lanyards made from bamboo fibre. 
EarthCheck sponsored the 2019APCS because we identified significant opportunities in building our brand awareness and sharing our knowledge about sustainability, which was one of the 2019APCS program themes, within our local community and the broader Asia Pacific region. 
3. Can you tell us more about the outcomes of your involvement in the 2019APCS? 
EarthCheck's EventCheck™ provided a practical framework for the event organisers to measure and minimise the impact of the 2019APCS and calculate its environmental and carbon footprint. 
By completing EventCheck™, the APCS organisers took their first steps in assessing current practices and prepared an implementation plan that helped deliver a more responsible and sustainable event. Data captured included delegate road and air transport, energy use, waste production and disposal, and accommodation.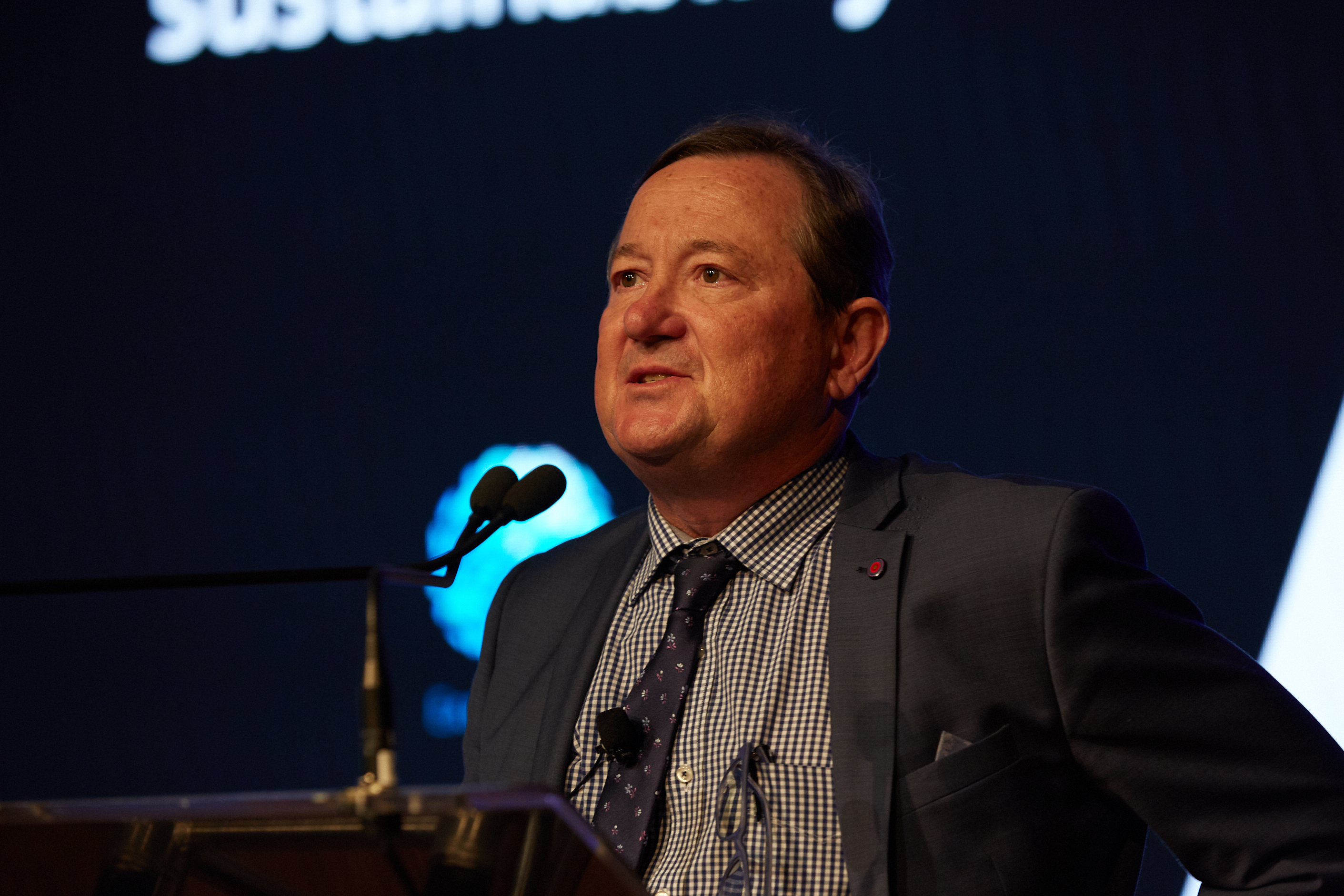 (Stewart Moore, Founder and Chief Executive Officer of EarthCheck, speaking at the 2019APCS in Brisbane) 
4. Why is sustainability in the MICE (Meetings, Incentives, Conferences and Events) industry so important? 
The MICE sector delivers major economic benefits that are a key contributor to the growth in tourism and leisure development worldwide. The benefits from MICE extend far beyond the actual hosting of the event, with trade opportunities being generated in both host and visitor countries: tourism represents 5% of global GDP and contributes to more than 8% of total employment. 
Globally, the events sector has become a multi-million dollar industry and that's why it's important to see an event as influential as the APCS leading the way for sustainable events delivery in the Asia Pacific region and showcasing Brisbane as a sustainable MICE destination for both leisure visitors and business travellers. 
As an industry, we can't take action on future water, waste and energy initiatives if we don't understand what we are using now. Sustainability initiatives like EventCheck™ can provide a point of difference for MICE and become part of a rewarding event experience for business travellers and their guests. 
Tourism and destination marketing and management now go hand in hand with event marketing. Destination support services, activities and attractions remain an important factor when meeting planners choose a venue, because delegates want to go to a destination that offers comfortable and clean hotel accommodation, good food, local entertainment and other facilities that they can use when the conference is over. 
Smart organisations excel at guiding guests through the hotel, resort or event venue's sustainability story, giving them a role to play in conservation and community initiatives and empowering them to recognise that they play an important part of the environmental solution. 
5. What were some of the highlights from your involvement in the 2019APCS?
Supporting the 2019APCS, provided EarthCheck with an opportunity to meet with a wide range of delegates from cities across the Asia Pacific region. The trade show booths (Market Square exhibition) provided a chance to better understand the services and products on offer. The venues and networking events throughout the 2019APCS provided an opportunity to informally mix with delegates and introduce our city to international visitors. In addition, the presentations from keynote speakers who provided data, case studies and insights into emerging trends, were inspiring. 
6. How has your organisation specifically benefited from participating in the 2019APCS? 
The 2019APCS provided a chance for EarthCheck to connect with local participants and international visitors. We made excellent contacts with the representatives from a local government in Canada and this in return provided a number of significant leads and opportunities for EarthCheck's consulting team. In addition, we also caught up with and made contacts with a substantial number of local suppliers who we are now working with.  
7. Why should organisations consider partnering with the Summit into the future? Any other words you would like to share with future APCS attendees?
There is no better event to attend and participate in than the APCS! It is a significant event that attracts key decision makers from across the Asia Pacific region.
The above content was provided by EarthCheck, 2019APCS Supporting Partner. For information about EarthCheck, visit the website.