"Connect your business with global audiences" 
The 2023APCS provides a unique business networking opportunity in the heart of Brisbane. Across three days, this event draws together people from key markets across Australia, as well as regions around the world, ensuring you will walk away with new business leads and strategic connections. 
At the 2023APCS: 
Be the first to hear about major tender-ready projects at the Major Project Announcement Briefings
Connect in-person and showcase your business for over 1,000 potential customers at the 2023APCS Market Square, an exhibition space (currently sold out)
Make introductions and organise meetings with fellow attendees from over 100 different cities via our bespoke APCS App
Network at a range of social events including the Opening Reception, Gala Dinner and Closing Lunch, as well as breaks throughout the program 
Apply to speak at the 2023APCS and showcase your ideas to over 1,000 global delegates
Gain new insights on emerging city-shaping trends and issues from over 100 industry-recognised speakers.
Being part of the 2023APCS will connect you to key leaders across the public and private sectors, including:
City mayors, councillors and CEOs
Local, state and federal government representatives
Peak body leaders
Policy makers 
Company CEOs and business leaders 
Emerging leaders, innovators and influencers. 
2023APCS App
The 2023APCS App opens seven days before the Summit starts and includes functionality to request meetings well in advance of your arrival. Meeting suites are provided in the APCS Brisbane Pavilion, offering a convenient and accessible space to host these strategic meetings. This app also remains open for 60 days after the Summit, to ensure you don't lose your new connections.
Key functions of the app allow you to:
View a digital version of the full Summit program
Take notes during the event which can be exported
Look up exhibitors and speakers
Scan the lanyards of fellow delegates via their individualised QR codes (to save their contact details)
Receive important event announcements.
Accessing Meet@APCS
During the registration process, delegates will be invited to participate in the Meet@APCS program. Make sure to accept this invitation.
Prior to the 2023APCS, registered delegates will be emailed a link to download the Meet@APCS app. Once downloaded, delegates can use the Meet@APCS app to request and accept meetings with fellow delegates.
Staff will also be on-site during the event to assist delegates in accessing and using the app.
Partnership opportunities: 
A range of partnership opportunities are available, suitable for all business sizes and specialisations. Please contact the APCS Secretariat to find out more. 
Business Case Studies
Read through these case studies to find out how APCS can unlock business opportunities for your organisation. 
Testimonials 
Hear from the previous APCS exhibitors - watch now.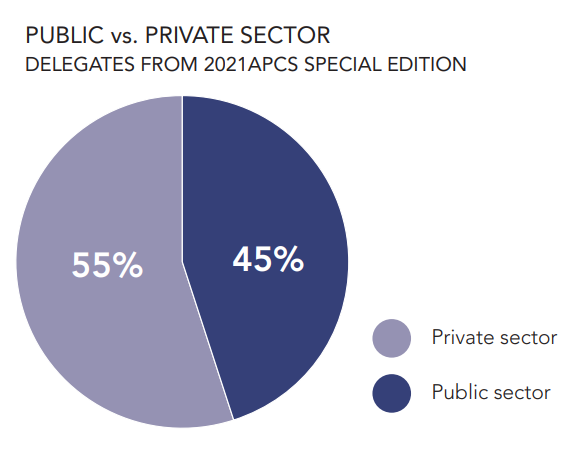 Register to attend the 2023APCS now.